Genealogy Problem-Solving Academy
by Genealogy In Action with Julie Cahill Tarr
Say goodbye to disorganized and unfocused research, and hello to a step-by-step process that will help you get organized and research with intention so you can break down those brick walls!
What if you could...
Finally sort through same-name individuals, find elusive ancestors, discover immigrant origins, and/or collect the remaining details to round out an ancestor's story?

Save time (and money!) by not repeating the same research over and over?
Learn an organized system that keeps your research on track (and you smiling!)?
Feel confident, motivated, empowered, and overjoyed every time you sat down to work on your research?
What if I told you this is totally doable?
Introducing Genealogy Problem-Solving Academy
A digital, self-study course that teaches you a proven framework to help you get organized and research with intention. Learn WHAT tools and techniques to use, WHEN to use them, and HOW to use them.

Video Training

5 modules of video lessons that walk you step by step though the problem-solving framework. This framework will transform the way you look at your research so you can work toward solving your family history mysteries!

Assignments

Complete various activities so you can immediately apply what you learn and push forward on YOUR OWN research project.

Worksheets, templates, resources, and more

Use these tools so you can easily work through your project without excuses.
Here's why the Academy is different…
I'm here to shake things up, because I truly believe that the best way to learn is by DOING. The simple act of implementing what you learn can help establish habits leading to better retention and recall.
The Academy is built around a framework, so the best way to tackle it is to apply it to your OWN project as you go. Once you work through the framework a few times it will become second nature and you'll go about your research without even thinking about the process.
This program is the real deal!
Before the Academy, I'd been researching for seven years and realized I needed to learn more about the research process and improve my approach.
When I started the Academy, I was uncertain about a great grandmother's maiden name. By working through the framework, I was able to identify her family line. I also walked away with a repeatable process that I am now applying to other projects.
The short videos, examples,and worksheets helped guide me through the process. Julie is a wealth of information, and I easily bonded with her methods and approach to teaching.
If you want a structured program for improving your research techniques, I really encourage you to enroll in Genealogy Problem-Solving Academy! Julie sincerely cares about her students' success!
Michael Godown



Inside Genealogy Problem-Solving Academy
Module 1
Foundations
Before you dive in, you'll go back to basics a bit so you can lay the foundation for the work ahead. You'll review the fundamentals of the research process and relevant genealogy standards so you can get started on the right foot. It is in this module where you will choose your genealogy project and form a focused research question to work on during the Academy.
Module 2
Review Previous Research
To know where you're going, you need to know where you've been. You'll follow a step-by-step process that will help you organize and scrutinize any previous research related to your project. By using various tools and methods, such as research logs, timelines, and the FAN Club, you'll be able to look at your research in new ways.
Module 3
Analyze Previous Research
Building on your work from Module 2, you'll take a deeper dive into your previous research. You'll learn how to analyze and correlate the information you already have in order to paint a clear picture of where you've been. This way you can effectively figure out your next steps. You'll use various tools to evaluate evidence and organize and explain your findings.
Module 4
Develop Detailed Research Plan
Here's where the magic happens! It's time to figure out new research avenues to follow in order to answer your research question. Follow this step-by-step process, and by the end you'll have an actionable research plan that will keep you organized and serve as a guide as you work to answer your research question.
Module 5
Implement Research Plan
Great! You have a plan…now what? In this module you'll learn best practices for conducting the actual research. You'll also learn about some handy tools you can use while researching, as well as how to stay organized during the entire research process.
Guess what?
You also get these cool bonuses for additional support!
Bonus 1
Tech Tutorial Library
10 video demos so you can learn how to use different genealogy-related websites to assess record availability.
Bonus 2
Locality Guide Training
A bonus lesson on how to create a locality guide so you can shortcut any future work in locations that frequently appear in your research.
Bonus 3
Suggested Sources List
If you get stuck in the planning phase, this resource can help. It contains common research questions with a list of sources to consult that may hold the answer or clues.
Bonus 4
"Ultimate" Source List
Still stuck in the planning phase? Use this extensive listing of genealogy sources to spark ideas for additional research avenues.
Break down those brick walls!
When I started the Academy, I was looking for new ways to get past brick walls. Having gone through the program, I was able to break down one of my brick walls by building and implementing my research plan. I found that a third great-grandfather wasn't born where we were told, and that discovery led to more branches on the family tree! If you need help building a research plan, Julie's the gal who can guide you!
Kim Barnett



By the end of this program you will have…
A structured research process so you can effectively and efficiently work to solve your family history mysteries.

An organized approach to research so you can easily navigate and track your research, saving you time and money.

Several tools and techniques so you can explore your research in new and exciting ways.

The confidence and motivation to keep pushing forward through your tricky research projects so you can uncover the stories of your ancestors and connect with them on a deeper level.
Your guide on this journey...
Hey there! I'm Julie Cahill Tarr, a genealogist known for strategic planning and problem solving. For many years I've helped clients solve family history mysteries, simply by reviewing previous research and building a research plan that either I or the client implement. It's my pleasure to share with you my entire framework so you can effectively and efficiently research your own family history mysteries. I do hope you'll let me be your guide on this journey. ❤️
Priceless!
Before the Academy, I was more of a "collector," not entirely researching at the level I desired. After participating in Julie's planning challenge, I realized I needed to really dive into her framework so I could become the genealogy researcher I wanted to be.
By the second week, I was already getting results! I found that the records I already had weren't adding up. My biggest takeaway? I need to slow down and really focus on what the records are telling me.
Julie is priceless beyond the simple cost of the Academy. The time and energy she put in was a huge benefit to me. I like that the course is paced and methodical.
If you're looking for a thorough and consistent process that gets results, Genealogy Problem-Solving Academy is for you!
Ken Baker



The Academy is a good fit for you if you're:



Acquainted with various genealogy standards, sources, and methodologies, but are looking to up-level your skills.
Serious about gaining a deeper understanding of your ancestors, beyond just names and dates.
Ready to ditch disorganized and unfocused research and instead utilize a step-by-step process to research with intention.
A process that gets results!
Even after 20+ years, I was all over the place with my research. I got bored easily since I kept finding the same information over and over.
Using the techniques in Genealogy Problem-Solving Academy, I was able to confirm my suspicions about a family situation I had pondered for years. How? Because I followed the "rules" and created a detailed research plan that led me to the answer. AMAZING!
What I learned, discovered, and realized was that I had been really winging it and there was a much better way to research. The Academy made me slow down and improve the way I approach my research.
Julie genuinely cares about her students' progress. She encourages you to follow the model, but also encourages you to make your own tweaks.
I'm not going to spoil it, but you'll look at your research in a whole new way! If you're thinking about enrolling, JUST DO IT...you'll be AMAZED!
Vicki Hilb



Here's what you get when you enroll today: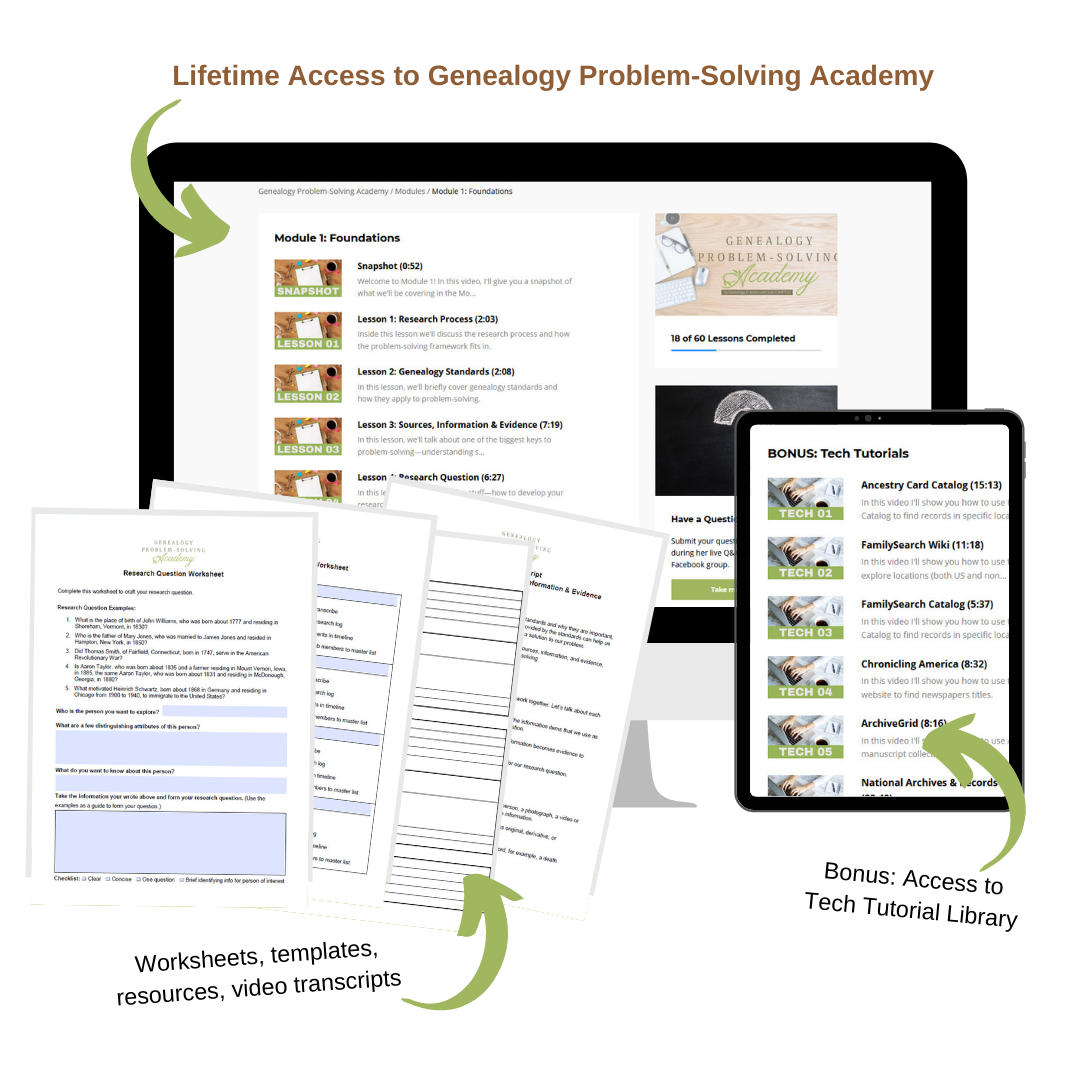 Genealogy Problem-Solving Academy ($1,347 value)
BONUS #1 - Tech Tutorial Library ($297 value)
BONUS #2 - Locality Guide Training ($47 value)
BONUS #3 - Suggested Sources List ($17 value)
BONUS #4 - "Ultimate" Source List ($17 value)
Total Value: $1,725
But when you enroll today, you'll get everything for just:
$147
Yes! I want to enroll!!
21-Day, Risk-Free Guarantee
I want you to be confident in your decision to invest in yourself as you progress along your genealogy journey.
If within the first 21 days you don't feel this course is a fit for you, simply contact me and I'll refund your payment.
A valuable investment!
Although I'd been casually researching my family history since the late 1970s, I've been working hard at it for the past four years. I didn't have an organized research approach, I was wasting my time repeating searches, and I didn't have an easy way to capture what I knew and what I wanted to learn about my ancestors.
Then came the Academy. Not only did I find an elusive ancestor, I was also able to get my research organized and build a plan for another brick wall.
I love that the lessons are specific and actionable, not theoretical like other genealogy courses and lectures. Taking immediate action during the program meant that I was applying what I learned to my own research and making progress as I went along.
Genealogy Problem-Solving Academy is a good investment if you want to save time with your genealogy research.
Debbie Berry



Frequently Asked Questions
Still on the fence? Maybe these will answer your questions.
What if I'm new to genealogy?
Is this a self-paced course?
How long will I have access to the content?
Will I get access to all the content as soon as I enroll?
Do the videos have closed captioning?
Will this framework work for my unique research problems?
Will this framework really help me solve my research problem?
What is the refund policy?
Can't I just get this information for free online?