Are you tired of using the same old records and repositories for your genealogy research?



Join the Genealogy Scavenger Hunt and explore new records and repositories and improve your research approach. Each month, you'll get a hands-on activity using various online records and repositories that are lesser-known but just as valuable as the more popular ones.
Don't miss out on this opportunity to add some fresh perspective to your genealogy research. And the best part? You'll have fun while doing it! The Genealogy Scavenger Hunt is designed to be a delightful and interactive experience, so you can enjoy the process of improving your research skills.
Sign up for the Genealogy Scavenger Hunt today to add diversity to your research and sharpen your research skills!
Great way to enhance research skills!
Even with more than 40 years of researching under my belt, I'm always learning. The scavenger hunt is a fun way to learn about free resources and is super helpful in enhancing my research skills. Julie is always responsive, so I know she's always there if I get stuck or need a push in the right direction. Overall, I'm loving the hunt!
Bobby Jacobs
Highly recommended!
I'm always looking to learn different methods and places to search, even after 45 years. The scavenger hunt is a straight-forward learning experience, and I absolutely love hunting for the records each month and digging through the information. It's a great value and I've recommended it to several friends.
Susan Blakeney
If you're ready to…
test your genealogy skills
learn about lesser-known records
explore a variety of free online record collections
improve your research approach
add educational resources to your toolbox
check out helpful research tools
use typical genealogy records in new ways

...so you can add diversity and a fresh perspective to your own research, then you're ready to join the Genealogy Scavenger Hunt!

Yes! I'm ready to join the hunt!
The challenges test my skills!
I've been researching for 20 years and joined the scavenger hunt to test my skills. It's helped me slow down and carefully evaluate the information I find in the records. I love the monthly challenges and the educational format, and it's even helped me re-energize my own research!
Jeffrey Vaillant
A fun way to learn new things!
I've been researching on and off for 40 years, but I joined the scavenger hunt to continue learning. No disappointment here; I've learned lots, plus it's interesting and fun! One of my biggest take-aways was learning to slow down and pay closer attention to what the records are telling me. Julie explains things well and doesn't talk over our heads, which I appreciate. The scavenger hunt is a great way to learn new things and have fun!
Marguerite Jewel
How the Scavenger Hunt Works
On the first of each month, you'll get a new challenge.
Use the clues to find specific free online record(s).
Answer the provided questions to test your skills.

Submit the answers to unlock a video demo of the answers.
Doable. Enjoyable. Thoughtful. All within an itty-bitty package!
I love that the scavenger hunt is a great way to learn new techniques or refresh old ways of thinking without a major financial or time commitment. The hunt is focused on one topic, directed, and reaches a conclusion; but the learning and usefulness don't stop there, since Julie encourages us to use what we've learned and apply it to our own research. The bite-sized challenges are manageable, the techniques are universal, and the resources are applicable. I think of the hunt more like a genealogy happy hour where I can learn and add to my research toolbox!
Bill Zeigler
A fun, hands-on way to learn!
I joined the scavenger hunt to learn about records I'm not familiar with and am loving what I'm learning! What I appreciate the most is that it's not passive learning or simply a webinar. I have to take an active role or I won't learn, and that's what I get with the scavenger hunt. Overall, the hunt is super helpful and it's great that I can work on it at my own pace!
Sara Martin
How about some cool bonuses?
In addition to the monthly challenges for one year, you'll also get these bonuses!
Bonus 1
Previous Challenges
You'll get access to the previous 5 month's challenges so you can learn even more!

Bonus 2
Take Action Prompt
Each month you'll get a research prompt so you can take action on your own research.
Bonus 3
Genealogy In Action Guide
A PDF copy of 10 Ways to Take Action in 10 Minutes or Less: A Genealogy In Action Guide, so you can find ways to fit genealogy into your busy life.
The person behind the hunt…
Hey there! I'm Julie Cahill Tarr, a genealogist known for strategic planning and problem solving. I firmly believe in active learning and that's what Genealogy In Action is all about. The scavenger hunt is designed for you to engage in the learning process for better recall and retention, all while having fun. Then you can take what you learn and apply it to your own research projects! ❤️
Worth every penny!
I find that I learn better through hands-on experience, so I joined the hunt to boost my research skills. Even though funds are tight, it's worth the $ because I get to focus on specific sources, which helps me think outside the box and come up with new ideas for my own research!
Karla Johnson
Here's what you get when you join today: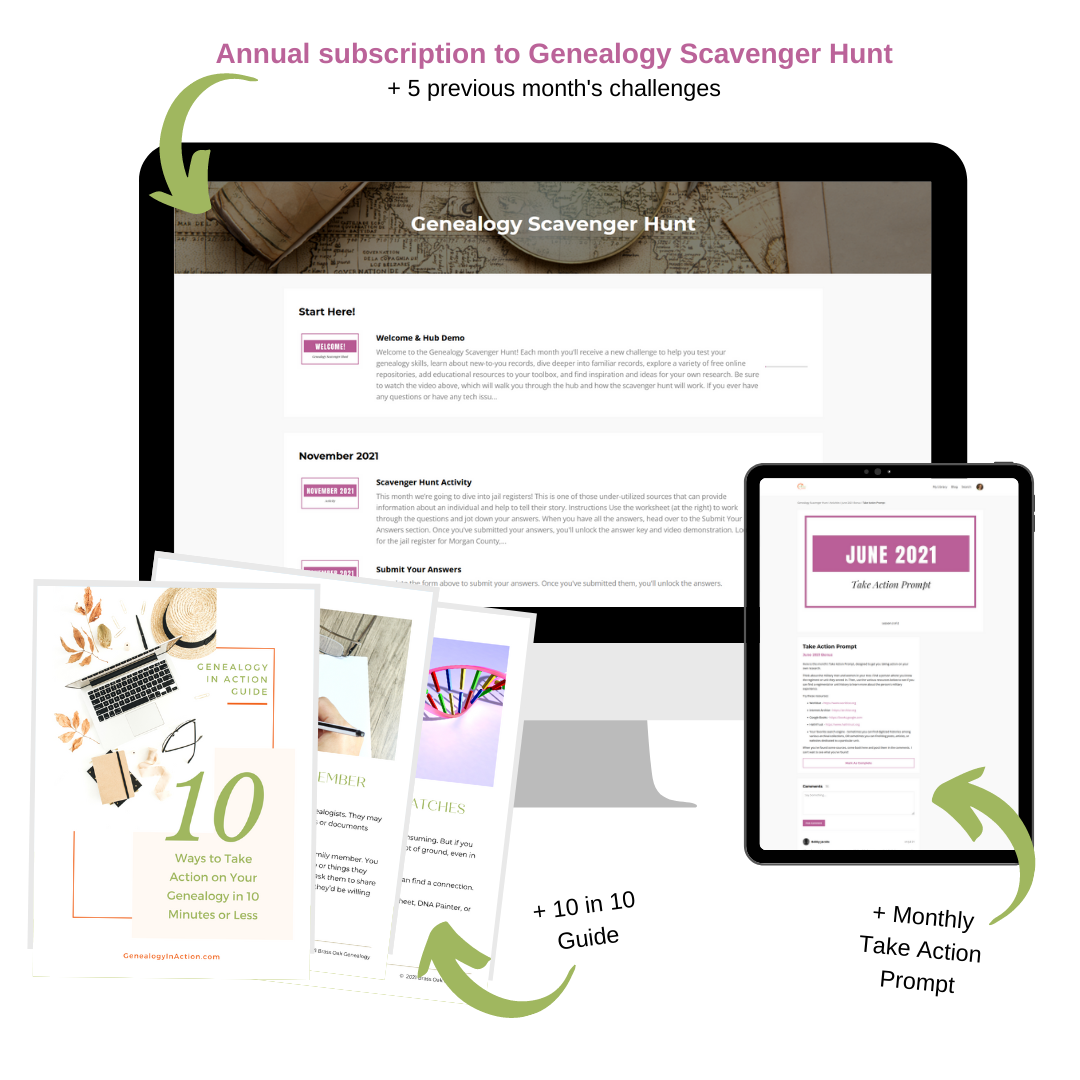 Annual subscription to Genealogy Scavenger Hunt ($324 value)
BONUS #1 - Access to the previous 5 month's challenges ($135 value)
BONUS #2 - Take Action Prompt (priceless)
BONUS #3 - PDF of 10 Ways to Take Action in 10 Minutes or Less: A Genealogy In Action Guide ($17 value)

Total Value: $476/year
But when you join the hunt today, you'll get everything for just:
$47/year
For $47/year? Heck yes!!
21-Day, Risk-Free Guarantee
I want you to be confident in your decision to invest in yourself as you progress along your genealogy journey.
If within the first 21 days you don't feel the scavenger hunt is a fit for you, simply contact me and I'll refund your payment.
A no-brainer!
Doing the scavenger hunt has taught me new ways to learn about my ancestors; I even discovered more details about censuses that I hadn't really paid attention to before. I love that the scavenger hunt is so much fun and very informative! For anyone considering joining, it's a no-brainer!
Debbie Clark
Frequently Asked Questions
Still on the fence? Maybe these will answer your questions.
What if I'm new to genealogy?
I've been doing genealogy for years...is this for me?
How exactly does this work?
What's the time commitment?
Do the videos have closed captioning?
How long will I have access to the content?
Do you have a refund policy?